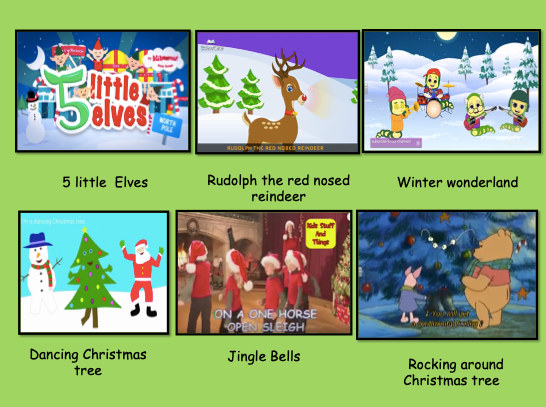 Here is a free interactive PowerPoint choice board that links straight to Christmas songs on YouTube.
When the image is pressed, it opens the video on YouTube. This allows the child/ children to make a choice from a selection of songs.
Choice making encourages communication. Whether your child or children will communicate through pointing, touching, saying a word or sentence, visual choice making gives you the opportunity to model the necessary communication. For example, if your child communicates through saying words, you can model the name of the song or a sentence such as "I choose Jingle Bells!". If your child communicates through pointing, you can model making a choice by pointing to a song picture.
This can be great in a class or group setting, on an interactive whiteboard or at home on a computer or laptop. 
The 6 songs featured on this resource are favourites of some of the young children I have taught and they are:
Rudolph the Red Nose Reindeer
Dancing Christmas Tree
Rocking Around the Christmas Tree
Jingle Bells (Singing Hands)
5 Little Elves
Winter Wonderland
The images and links can easily be changed on PowerPoint to insert your children's favourite songs by changing the 'hyperlink'.
I always love to do some singing with the children at some point in the day and they really enjoy singing with multi-sensory resources, objects and pictures!
Learn more about supporting children's communication development!
My short online courses will teach you practical skills and knowledge through bitesize videos and downloadable resources.
Designed for teachers, children's professionals as well as parents and carers.
Grab my FREE Inclusive Teaching Strategies Guide!
11 Inclusive Teaching Strategies to support ALL children
Enter your name and email below and get the Inclusive Teaching Strategies Guide sent straight to your inbox!
Learn how you can help autistic children reach their potential
You are invited to join our online courses and support community, to help build your practical knowledge and skills in enhancing the learning and development of autistic and neurodiverse children.