Here is a free interactive choice board that links straight to songs on YouTube. The songs are some of the favourites of primary aged children I have taught. These interactive choice boards are easy to make and amend in a program such as Microsoft PowerPoint by creating 'hyperlinks' to a web page.


The pictures and links to the songs can be changed to suit the interests of your child/children.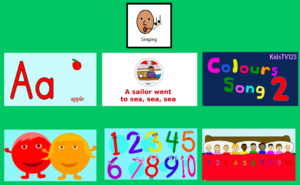 A child can choose a song by clicking on the picture, giving them the element of choice. This can be great for turn taking in a class or group setting on an interactive whiteboard or enjoying at home on a computer or laptop.
Grab my FREE Inclusive Teaching Strategies Guide!
11 Inclusive Teaching Strategies to support ALL children
Enter your name and email below and get the Inclusive Teaching Strategies Guide sent straight to your inbox!
Learn how you can help autistic children reach their potential
You are invited to join our online courses and support community, to help build your practical knowledge and skills in enhancing the learning and development of autistic and neurodiverse children.