The winter holiday/ Christmas season can be a very challenging times of the year for autistic children.
There are all sorts of unpredictable changes to usual daily life in the lead up to Christmas and New Years Day such as:
changes to the environment at home, school and in the community with bright lights and decorations
people wearing different clothes such as Christmas related costumes and outfits
changes to school routine such as Christmas play rehearsals, outings and parties
family visits and trips
people acting different because they are excited about the holidays or just too cold because of the weather!
presents (what is in that box!?)
In order to prepare for these changes, it can help to have a visual calendar which includes any upcoming events and changes. It is important the calendar is somewhere where the child can see it, perhaps on the wall of their bedroom.
This is to help visually prepare the child in advance which days will be different and introduce the idea of the different event.
The calendar can be made in any way that makes sense to the child- for example a written calendar or a picture calendar with images and photos.
Here is an example made in Microsoft Word. You can download and edit it below.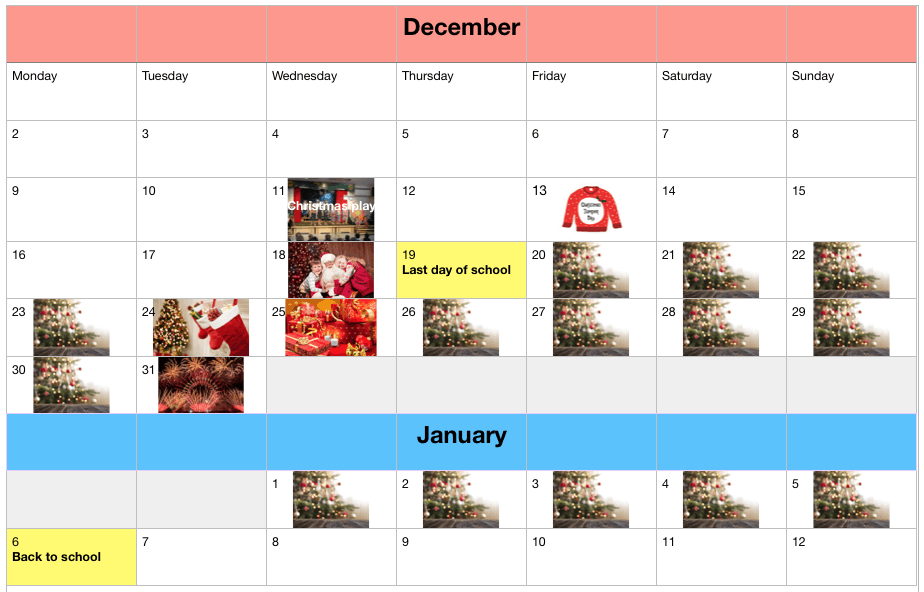 It is good practice to ensure that the calendar is marked off by your child each day to make it clear to them which day it is and what may be happening on the next day.
Model how to do this with your child. You may want to get into a routine of marking the calendar each day at the same time. This can be done by ticking or marking the day with a pen.
It is also important to make sure the school holidays are marked on the calendar, or to have a separate school holiday countdown calendar. This is to aid the transition between school and the holidays and to make it clear how many days are left before returning to school.
Have a brilliant holiday season all!