Remembering to leave a space between words when writing can sometimes be tricky for children to remember.
A visual support can often help to remind a child to leave a space between words, if it is in their eye view, such as on their table. A visual support will also encourage a child to leave a space by themselves rather than becoming reliant on an adult telling them to leave a space.
I like using 'finger space' visual supports that are shaped like a finger. As well as acting as a visual reminder, the child can also place it on their work and use it as a physical measurement, so placing it after a word and then starting the next word after the finger.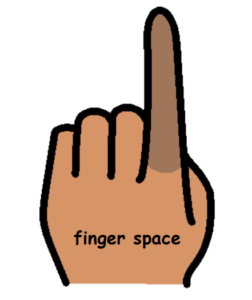 Simply print, cut out and ensure the child knows what it means by showing them how to use it. Make sure the visual support is in the child's eye view when writing and encourage independency by enabling the child/children to get it themselves.
Another more individual 'finger space' visual support idea is to use a photo or photocopy of the child's hand. This will give the child ownership of the visual resource as it is their own hand!
Learn about inclusive teaching and support strategies
My short online courses teach you practical skills and knowledge through bitesize videos and downloadable resources.
Designed for teachers, children's professionals as well as parents and carers.
Grab my FREE Inclusive Teaching Strategies Guide!
11 Inclusive Teaching Strategies to support ALL children
Enter your name and email below and get the Inclusive Teaching Strategies Guide sent straight to your inbox!
Learn how you can help autistic children reach their potential
You are invited to join our online courses and support community, to help build your practical knowledge and skills in enhancing the learning and development of autistic and neurodiverse children.